Canada 2015 Big Coins Series #4 Beaver 5 Cents 5 Oz Silver Gold Plated Nickel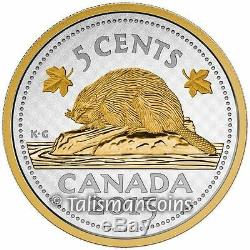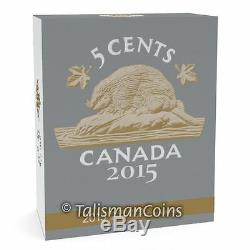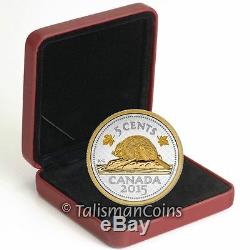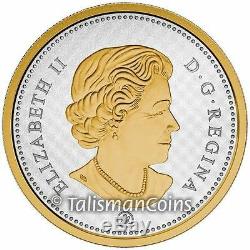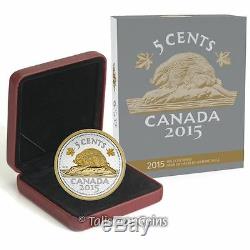 In the incredibly popular Big Coins series, and THE ONLY 5 OUNCE BEAVER "NICKEL" 5 CENT COIN IN CANADIAN HISTORY! Get all six circulating Canadian denominations, minted in five troy ounces of pure silver with proof finish and 24-karat gold plating. Extremely low mintage, too - only 1,500!
The Royal Canadian Mint strikes again! Now we're livin' large! Here's your unique opportunity to acquire each of the current six circulating denominations of Canadian coinage - except blown up to monster size! Celebrate the history and artistry of Canadian circulation coinage, in a larger version - the better to enjoy these storied designs in all their glory! Each beautiful proof is minted in five troy ounces. Of pure silver and features selective 24-karat gold plating on both the obverse and reverse! This is the first and only five ounce silver nickel or five-cent piece (Beaver or otherwise) in Canadian history! We can not stress strongly enough what an opportunity this is! We believe that this landmark coin will become a numismatic delicacy, greedily pursued by future generations! The mintage limit is low, so grab yours now!
Collect ALL the Big Coins 5 Oz Silver Proofs. 1 Common Loon "Loonie" 5 Oz Silver Dollar.
2 Caribou 5 Oz Silver Quarter Dollar - 25 Cents. 3 Bluenose Schooner 5 Oz Silver Dime - 10 Cents.
4 Beaver 5 Oz Silver Nickel - 5 Cents. 5 Coat of Arms 5 Oz Silver Half Dollar - 50 Cents 6 Polar Bear "Toonie" 5 Oz Silver Two Dollars. "Busy as a beaver" refers to the hardworking and industrious nature of this furry critter. Is considered one of the three iconic symbols of Canada. Here's your unique opportunity to acquire one of the six circulating denominations of Canadian coinage - except blown up to monster size!
This gold-plated beauty commemorates the beaver, as depicted on the classic Canadian nickel or 5-cent piece, designed by G. Kruger Gray and in use since 1937! Engraved in exquisite relief which shows the individual hairs in the beaver's fur, the various finishes enhance the overall appearance by adding even more detail to the iconic image we've grown accustomed to seeing on the 5-cent circulation coin! It's not widely remembered today, but during the 1830s and'40s there was a fashion craze in Europe for beaver-fur hats.
This provided the livelihood for the fur-trapping mountain men. Fortunately, the fashion died out in time for the beaver to be saved, allowing it to continue to dam streams and create new habitat for many other creatures. When trappers would bring their furs to the trading posts, something was needed to represent the value of the pelts. At first, everything from porcupine quills, ivory discs and bits of wood or bone were used - anything that that the trapper and merchant agreed upon. As the industry became more sophisticated, trade tokens began to appear.
As the two parties went through the furs, tokens would be placed on the counter. Some trade tokens were square. Others featured the prize of the fur trade that also reigns as one of Canada's earliest forms of currency - the beaver! To this day, the beaver. Is featured on the Canadian 5 cents (nickel) coin!
Here's a coin with a ton of investment potential, to say nothing of cachet! It's huge (nearly 3 inches in diameter) and stuck in the purest silver. Refined anywhere in the world.
The numismatic circulating coin theme is extremely popular, too! Then there's that extremely low mintage limit - only 1,500!
Don't let it sell out on you, get yours today! Technology Note - Gold Plating. The Royal Canadian Mints proprietary selective gold plating process is the most advanced in the world, resulting in unparalleled precision and beauty.
The Royal Canadian Mint refines the purest silver in the world. This five troy ounce silver coin. An artistic, realistic and minutely detailed portrait of a beaver. Taken from the classic Canadian 5-cent piece, designed by G.
The date of issue and denomination also appear. Her Majesty, Queen Elizabeth II. This portrait, the fourth effigy of the queen to appear on Canadian Coinage, was executed by the artist Susanna Blunt. The legend reads ELIZABETH II D. REGINA ("Elizabeth II, Queen by the Grace of God"). The coin is encapsulated inside a burgundy leatherette, clamshell-style presentation case, lined with black velvet and protected by a full color, custom cardboard box. An individually-numbered certificate of authenticity is included. Proof with 24-Karat Gold Plating. The item "Canada 2015 Big Coins Series #4 Beaver 5 Cents 5 Oz Silver Gold Plated Nickel" is in sale since Monday, May 11, 2015. This item is in the category "Coins & Paper Money\Coins\ Canada\Commemorative".
The seller is "talismancoins" and is located in Saint Louis, Missouri. This item can be shipped worldwide.
Country/Region of Manufacture: Canada
Circulated/Uncirculated: Uncirculated
Year: 2015
Denomination: 5 Cents
Composition: Silver