1984 Los Angeles US Mint Olympic 3 Coin CommemSet w. 48 oz Gold Proof & 2 Slv Pr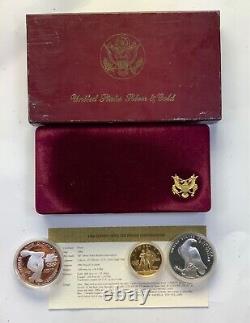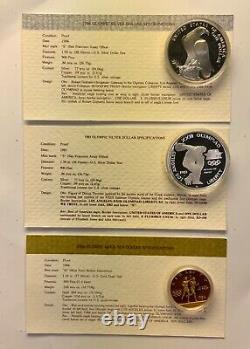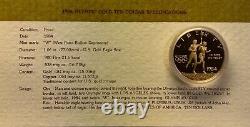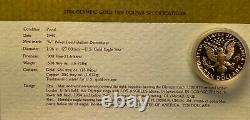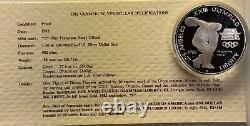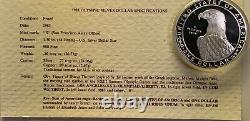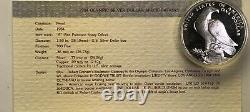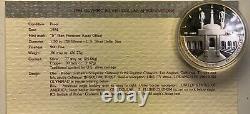 Original 1984 Los Angeles Olympic Three Coin Proof Set. 1984 Olympic Ten dollar Gold Proof Coin. 484 oz, 1983 Olympic Silver Dollar.
77 oz and 1984 Olympic Silver dollar. 77 oz in Original Government Packaging. Up for sale is an Original 1984 Los Angeles Olympic Three Coin Proof Set. The set contains three proof coins: 1984 Olympic Gold proof coin.
484 oz of gold, 1984 Olympic Silver Dollar. 77 oz of silver and 1983 Olympic Silver dollar.
77 oz of silver all in Original Government Packaging including the original certificates of authenticities for all three of the coins. The 1983 and 1984 silver one dollar proof coins are composed of 90% silver and 10% copper. The 1984 ten dollar proof coin is composed of 90% gold and 10% copper. This set contains coins that are historic for the US in a number of ways.
These coins were the first Olympic commemorative coins ever issued by the United States Mint. The gold coin struck for this set was also the first gold coin struck by the US mint since 1933 when the US mint abruptly, after more than a century, abandoned gold coinage. The 1983 silver proof coin in this set was also the first commemorative silver dollar issued by the mint in over 80 years when it was produced in 1983 and was the second of the modern commemoratives issued (the first of the modern commemoratives being the 1982 George Washington Silver Half Dollars). Since these coins were issued in 1983/1984 by the US mint, the mint continued to mint gold and silver commemorative coins. To date the mint has issued 27 different coins for the Olympics including for 24 Olympic Games, 2 Paralympics and one Special Olympics.
The velvet and satin presentation case features the XXIII Summer Olympic Games moving star symbol representing international athletes' pursuit of excellence and the traditional five Olympic rings representing universal brotherhood among the continents of the word. The red, white and blue ribbon highlights the American location of the 1984 Games. The coins (and original packaging) in the picture are the coins you will receive.
Included with the coins are all of the original government packaging including the certificates of authenticity. Note that there are areas of wear on the packaging, especially the outer packaging.