1925 CALIFORNIA Commemorative Silver Half Dollar Coin GOLD RUSH BEAR NGC i75991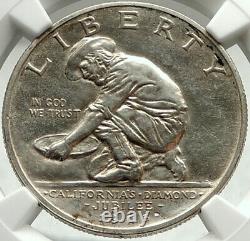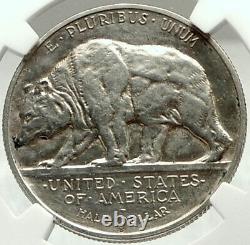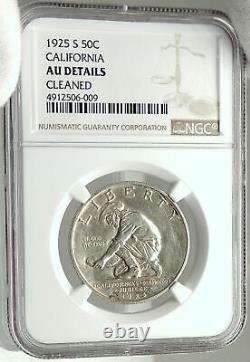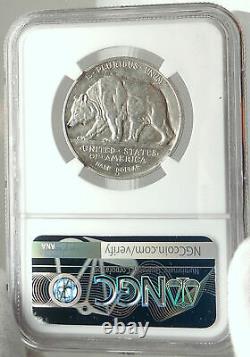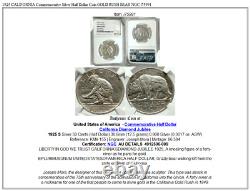 Item: i75991 Authentic Coin of. United States of America - Commemorative Half Dollar. 1925 S Silver 50 Cents (Half Dollar) 30.6mm (12.5 grams) 0.900 Silver 0.3617 oz. AU DETAILS 4912506-009 LIBERTY IN GOD WE TRUST ·CALIFORNIA'S·DIAMOND· ·JUBILEE· 1925, A kneeling figure of a "forty-niner" as he pans for gold. E·PLURIBUS·UNUM ·UNITED·STATES·OF·AMERICA HALF DOLLAR, Grizzly bear walking left from the state emblem of California.
Joseph Mora, the designer of this coin was a noted California sculptor. This type was struck in comemoration of the 75th anniversary of the admission of California into the Union. A forty-niner is a nickname for one of the first people to come to mine gold in the California Gold Rush in 1849.
California is a state in the Pacific Region of the United States. With 39.6 million residents, California is the most populous U.
State and the third-largest by area. The state capital is Sacramento.
The Greater Los Angeles Area and the San Francisco Bay Area are the nation's second and fifth most populous urban regions, with 18.7 million and 8.8 million residents respectively. Los Angeles is California's most populous city, and the country's second most populous, after New York City. California also has the nation's most populous county, Los Angeles County, and its largest county by area, San Bernardino County. The City and County of San Francisco is both the country's second-most densely populated major city after New York and the fifth-most densely populated county, behind only four of the five New York City boroughs.
If it were a country, California would be the 5th largest economy in the world (larger than the United Kingdom, France, or India), and the 36th most populous as of 2017. California is considered a global trendsetter in popular culture, innovation, environmentalism and politics. It is considered the origin of the American film industry, the hippie counterculture, fast food, the Internet, and the personal computer, among others. The San Francisco Bay Area and the Greater Los Angeles Area are widely seen as the centers of the global technology and entertainment industries, respectively.
California has a very diverse economy: 58% of the state's economy is centered on finance, government, real estate services, technology, and professional, scientific and technical business services. Although it accounts for only 1.5% of the state's economy, California's agriculture industry has the highest output of any U. California is bordered by Oregon to the north, Nevada and Arizona to the east, and the Mexican state of Baja California to the south (with the coast being on the west). The state's diverse geography ranges from the Pacific Coast in the west to the Sierra Nevada mountain range in the east, and from the redwood-Douglas fir forests in the northwest to the Mojave Desert in the southeast. The Central Valley, a major agricultural area, dominates the state's center. Although California is well-known for its warm Mediterranean climate, the large size of the state results in climates that vary from moist temperate rainforest in the north to arid desert in the interior, as well as snowy alpine in the mountains. Over time, drought and wildfires have become more pervasive features. What is now California was first settled by various Native Californian tribes before being explored by a number of European expeditions during the 16th and 17th centuries.
The Spanish Empire then claimed it as part of Alta California in their New Spain colony. The area became a part of Mexico in 1821 following its successful war for independence but was ceded to the United States in 1848 after the Mexican-American War. The western portion of Alta California then was organized and admitted as the 31st state on September 9, 1850. The California Gold Rush starting in 1848 led to dramatic social and demographic changes, with large-scale emigration from the east and abroad with an accompanying economic boom. Marshall at Sutter's Mill in Coloma, California.
The news of gold brought approximately 300,000 people to California from the rest of the United States and abroad. The Gold Rush had severe effects on Native Californians and resulted in a precipitous population decline from disease, genocide and starvation. By the time it ended, California had gone from a thinly populated ex-Mexican territory, to having one of its first two U.
Frémont, selected to be the first presidential nominee for the new Republican Party, in 1856. The effects of the Gold Rush were substantial. Whole indigenous societies were attacked and pushed off their lands by the gold-seekers, called "forty-niners" (referring to 1849, the peak year for Gold Rush immigration). Of the approximately 300,000 people who came to California during the Gold Rush, about half arrived by sea and half came overland on the California Trail and the Gila River trail; forty-niners often faced substantial hardships on the trip. While most of the newly arrived were Americans, the gold rush attracted thousands from Latin America, Europe, Australia, and China.
Agriculture and ranching expanded throughout the state to meet the needs of the settlers. San Francisco grew from a small settlement of about 200 residents in 1846 to a boomtown of about 36,000 by 1852. Roads, churches, schools and other towns were built throughout California. In 1849 a state constitution was written. The new constitution was adopted by referendum vote, and the future state's interim first governor and legislature were chosen.
In September 1850, California became a state. At the beginning of the Gold Rush, there was no law regarding property rights in the goldfields and a system of "staking claims" was developed. Prospectors retrieved the gold from streams and riverbeds using simple techniques, such as panning.
Although the mining caused environmental harm, more sophisticated methods of gold recovery were developed and later adopted around the world. New methods of transportation developed as steamships came into regular service. By 1869, railroads were built from California to the eastern United States. At its peak, technological advances reached a point where significant financing was required, increasing the proportion of gold companies to individual miners. Gold worth tens of billions of today's US dollars was recovered, which led to great wealth for a few, though many who participated in the California Gold Rush earned little more than they had started with.
The first people to rush to the goldfields, beginning in the spring of 1848, were the residents of California themselves-primarily agriculturally oriented Americans and Europeans living in Northern California, along with Native Americans and some Californios (Spanish-speaking Californians). These first miners tended to be families in which everyone helped in the effort.
Women and children of all ethnicities were often found panning next to the men. Some enterprising families set up boarding houses to accommodate the influx of men; in such cases, the women often brought in steady income while their husbands searched for gold. Word of the Gold Rush spread slowly at first. The first large group of Americans to arrive were several thousand Oregonians who came down the Siskiyou Trail.
By the end of 1848, some 6,000 Argonauts had come to California. Only a small number (probably fewer than 500) traveled overland from the United States that year. Some of these "forty-eighters", as the earliest gold-seekers were sometimes called, were able to collect large amounts of easily accessible gold-in some cases, thousands of dollars worth each day.
Even ordinary prospectors averaged daily gold finds worth 10 to 15 times the daily wage of a laborer on the East Coast. A person could work for six months in the goldfields and find the equivalent of six years' wages back home.
Some hoped to get rich quick and return home, and others wished to start businesses in California. By the beginning of 1849, word of the Gold Rush had spread around the world, and an overwhelming number of gold-seekers and merchants began to arrive from virtually every continent. The largest group of forty-niners in 1849 were Americans, arriving by the tens of thousands overland across the continent and along various sailing routes (the name "forty-niner" was derived from the year 1849). Many from the East Coast negotiated a crossing of the Appalachian Mountains, taking to riverboats in Pennsylvania, poling the keelboats to Missouri River wagon train assembly ports, and then travelling in a wagon train along the California Trail.
Forty-niners came from Latin America, particularly from the Mexican mining districts near Sonora and Chile. Gold-seekers and merchants from Asia, primarily from China, began arriving in 1849, at first in modest numbers to Gum San ("Gold Mountain"), the name given to California in Chinese. The first immigrants from Europe, reeling from the effects of the Revolutions of 1848 and with a longer distance to travel, began arriving in late 1849, mostly from France, with some Germans, Italians, and Britons.
It is estimated that approximately 90,000 people arrived in California in 1849-about half by land and half by sea. Of these, perhaps 50,000 to 60,000 were Americans, and the rest were from other countries. By 1855, it is estimated at least 300,000 gold-seekers, merchants, and other immigrants had arrived in California from around the world. The largest group continued to be Americans, but there were tens of thousands each of Mexicans, Chinese, Britons, Australians, French, and Latin Americans, together with many smaller groups of miners, such as African Americans, Filipinos, Basques and Turks. People from small villages in the hills near Genova, Italy were among the first to settle permanently in the Sierra Nevada foothills; they brought with them traditional agricultural skills, developed to survive cold winters. A modest number of miners of African ancestry (probably less than 4,000) had come from the Southern States, the Caribbean and Brazil.
A number of immigrants were from China. Several hundred Chinese arrived in California in 1849 and 1850, and in 1852 more than 20,000 landed in San Francisco. Their distinctive dress and appearance was highly recognizable in the goldfields. Chinese miners suffered enormously, enduring violent racism from white miners who aimed their frustrations at foreigners.
To this day, there has been no justice for known victims. There were also women in the Gold Rush. However, their numbers were small.
They held various roles including prostitutes, single entrepreneurs, married women, poor and wealthy women. They were of various ethnicities including Anglo-American, African-American, Hispanic, Native, European, Chinese, and Jewish.
The reasons they came varied: some came with their husbands, refusing to be left behind to fend for themselves, some came because their husbands sent for them, and others came (singles and widows) for the adventure and economic opportunities. On the trail many people died from accidents, cholera, fever, and myriad other causes, and many women became widows before even setting eyes on California. While in California, women became widows quite frequently due to mining accidents, disease, or mining disputes of their husbands.
Life in the goldfields offered opportunities for women to break from their traditional work. World-renowned expert numismatist, enthusiast, author and dealer in authentic ancient Greek, ancient Roman, ancient Byzantine, world coins & more. Ilya Zlobin is an independent individual who has a passion for coin collecting, research and understanding the importance of the historical context and significance all coins and objects represent. Send me a message about this and I can update your invoice should you want this method. Getting your order to you, quickly and securely is a top priority and is taken seriously here.
Great care is taken in packaging and mailing every item securely and quickly. What is a certificate of authenticity and what guarantees do you give that the item is authentic? You will be very happy with what you get with the COA; a professional presentation of the coin, with all of the relevant information and a picture of the coin you saw in the listing. Additionally, the coin is inside it's own protective coin flip (holder), with a 2x2 inch description of the coin matching the individual number on the COA.
Whether your goal is to collect or give the item as a gift, coins presented like this could be more prized and valued higher than items that were not given such care and attention to. When should I leave feedback?
Please don't leave any negative feedbacks, as it happens sometimes that people rush to leave feedback before letting sufficient time for their order to arrive. The matter of fact is that any issues can be resolved, as reputation is most important to me. My goal is to provide superior products and quality of service.
How and where do I learn more about collecting ancient coins? Visit the Guide on How to Use My Store. For on an overview about using my store, with additional information and links to all other parts of my store which may include educational information on topics you are looking for. This item is in the category "Coins & Paper Money\Coins: US\Commemorative\Silver (1892-1954)". The seller is "highrating_lowprice" and is located in this country: US.
This item can be shipped worldwide.
Country/Region of Manufacture: United States
Certification: NGC
Year: 1925
Composition: Silver
Grade: AU DETAILS
Certification Number: 4912506-009
Circulated/Uncirculated: Uncirculated
Denomination: Denomination_in_description