10 oz. Pure Silver Gold-Plated Coin Superman The Last Son of Krypton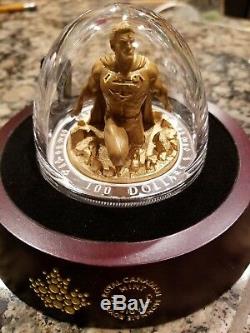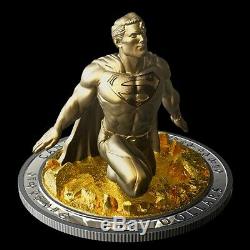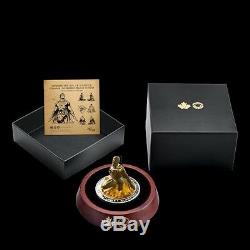 You've seen him in flight and in action; you've seen him perform incredible feats, whether hoisting vehicles or withstanding a hail of bullets; you've seen different versions of him, from Golden Age to New 52but you've never seen him quite like this. To mark the fifth anniversary of his Canadian numismatic debut, Superman dramatically breaks OUT of this coin's reverse, where the most influential character of all time is re-imagined in SCULPTURAL form! We're breaking new ground with this statuesque take on a pop culture icon, based on exclusive original art by one of Canada's biggest names in the comic book industry. Sculpted by one of our world-class engravers, the gold-plated sculpture of Superman is the epitome of strength and resolve as he emerges from the reverse, where the engraved Kryptonian glyphs (Superman) speak to his identity as The Last Son of Krypton.
A must-have world's first sculpture coin for any Supermanfan! Special features: INTRODUCING THE WORLD'S FIRST SUPERMANSCULPTURE COIN! For the first time ever, Superman is re-imagined in sculptural form!
The sculpture of The Last Son of Krypton is an incredible feat that shatters the boundary between 2D and 3D art on the reverse. WE'VE RE-TEAMED WITH A FAN FAVOURITE! Comic book art meets numismatic art on the reverse! Sculpted by Royal Canadian Mint engraver Mathew Porter, the statuette on the reverse is based on an exclusive original art concept by one of Canada's biggest names in the comic book industry: artist Jason Fabok. Magnificent gold plating adds a rich gleam to the silver sculpture of Superman, whose show of strength on the reverse may have been fuelled by Earth's yellow sun. While the sculpture steals the spotlight on the reverse, the coin's large-sized (65 mm) surface bears an outstanding number of engraved design elements, including the return of Kryptonian glyphs (Superman) that speak to the character's origins. INCLUDES AN EXCLUSIVE COLLECTOR CARD!
Your coin comes with a collector card that traces its journey from concept to coin, including Jason Fabok's original art! Your coin is safely enclosed in a dome-like capsule to help protect this uniquely shaped showpiece, which will add prestige to your collection. Your coin includes a serialized certificate!
Limited to 1,000 coins worldwide. Your coin is GST/HST exempt. Design: Designed by Canadian comic book artist Jason Fabok, your coin offers a statuesque take on The Last Son of Krypton.
The silver sculpture of Superman appears to break out of the coin's surface, where the boundary between 2D and 3D art has been shattered in a show of strength and resolve. As though exposed to the energy-giving rays of Earth's yellow sun, Superman basks in the rich gleam of gold plating that highlights the sculpted work of Royal Canadian Mint engraver Mathew Porter. Superman's gaze looks up towards the sky as he ascends with arms held out to the side, providing an unfettered view of the iconic S' emblazoned across his chest.
The coin's flat surface serves as a base, where the framed rim includes the engraved Kryptonian glyphs for Superman alongside the word CANADA, the year 2018 and the face value, 100 DOLLARS. The obverse features the effigy of Her Majesty Queen Elizabeth II by Susanna Blunt and the word CANADA. Did you know In the beginning, Superman could withstand bullets but not a bomb! This didn't last long: during the post-war Atomic Era, Superman's powers were expanded to include invulnerability to nuclear explosions. At first, Superman was famously able to leap tall buildings in a single bound. By the early 1940s, he had begun to fly, too! While Action Comics #1 explained Superman's alien origin, his vulnerability to Kryptonite was only introduced a decade later This is number 841 of 1000.
Pure Silver Gold-Plated Coin Superman The Last Son of Krypton" is in sale since Sunday, December 9, 2018. This item is in the category "Coins & Paper Money\Coins\ Canada\Commemorative".
The seller is "bobafett6666" and is located in Yellowknife, Northwest Territories. This item can be shipped worldwide.
Country/Region of Manufacture: Canada
Certification: Uncertified
Circulated/Uncirculated: Uncirculated