2018Low COA #62Antique Carousel6 OZ $50 Pure Silver Gold-Plated CoinCanada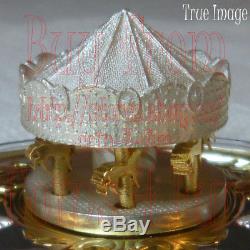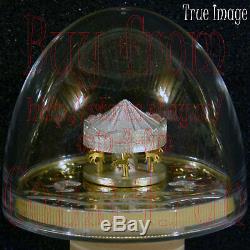 WARNING: This magnet is very powerful. Attraction of magnets in the body may cause serious injury. Do not handle magnet if you have a pacemaker. This product is not a toy.
Keep away from magnetic media storage devices. Round and round it goes! A fixture of regional fairs, travelling midways and amusement parks, the sights and sounds of a carousel (or merry-go-round) never fail to charm the young and young at heart. Rarer still is an antique carousel, whose lights, musical ambiance and fanciful décor are a beautiful invitation to step out of time and connect with a bygone age.
From the galloping steeds to the old-time music, Canadas antique carousels have a rare ability to create a sense of magic and wonder that stays with us forever. Your pure silver coin allows you to re-live that enchantment through the selectively gold-plated reverse that typifies the carousels fanciful décor. But atop the art of yesteryear sits an extraordinary interactive feature that sets this coin apart: your very own miniature carousel. Just like a real carousel, but sized for you to hold and cherish!
A WORLDS FIRST, YOUR VERY OWN COIN WITH ROTATING CAROUSEL! Re-live the magic and wonder of an antique carousel! Your pure silver coin captures the enchantment and timeless appeal of a classic carnival ride. MOVES WITH THE HELP OF A MAGNET!
Revisit cherished memories or let loose your imagination through the magic of a movable carousel! Affixed your coins surface, this miniature is capable of fully rotating with the help of a magnet (included). And as the carousel turns, the gold-plated horses move up and downjust like the real thing! Housed in a wooden display case, your interactive piece has been carefully engineered to ensure the carousels rotation will not scratch the surface of the coinespecially within the domed capsule.
Selective gold plating enhances the engraved scrollwork and the carousel figures on the reverse, the effigy on the obverse, and the rim on both sides. The Royal Canadian Mint certifies all of its collector coins. Most of these are serialized certifications, meaning that each certificate is given a unique number, starting at 1.
Limited to 1,000 coins worldwide. Your coin was meticulously crafted in 6 oz. In addition, your coin is GST/HST exempt. Artist Calder Moore beautifully conveys the century-old ambience of an antique carousel in your coins design, where engraved elements typify its fanciful décor.
Imagine the sound of old-time carnival music and the illuminating effect of the carousels lights that are represented by a row of bulbs that line a scalloped rounding board. Two illustrations of horse riders add a touch of vintage art amid the gold-plated, rococo-style scrollwork, which provides the base for an unusual topper: a miniature carousel. Carefully sculpted in outstanding detail, this silver piece is affixed to the coins surface in a way that allows for a rotational movement assisted by a magnet (included). As you turn the magnet to rotate the carousel, the selectively gold-plated horses mimic the up-and-down motion of their real-life counterparts.
While the reverse includes the engraved word CANADA, the face value 50 DOLLARS and the year 2018, the rim is also gold-plated on both sides, where it frames the mirror-like proof finish. The obverse features the gold-plated effigy of Her Majesty Queen Elizabeth II by Susanna Blunt. The outward-facing side of a carousel is known as its romance side, and tends to be more elaborately decorated than inward-facing elements. Its easy to spot a British-made carousel: it spins clockwise instead of the counter-clockwise direction of North-American carousels.
On your coin, you can rotate the miniature carousel in either direction! A carousels horses or menagerie figures are classified by their stance: standing, where at least three feet touch the platform; prancing, where the front legs are raised in the air; and jumping, where all four feet are off the ground, as though in mid-gallop. Calder Moore (reverse), Susanna Blunt (obverse). I do leave feedback for everyone. The item "2018Low COA #62Antique Carousel6 OZ $50 Pure Silver Gold-Plated CoinCanada" is in sale since Friday, June 1, 2018. This item is in the category "Coins & Paper Money\Coins\ Canada\Commemorative".fun" and is located in Richmond Hill, Ontario. This item can be shipped worldwide.
Country/Region of Manufacture: Canada
Certification: Uncertified
Grade: Ungraded
Circulated/Uncirculated: Uncirculated
Modified Item: No